Design Anarchy – VENDOR SPOTLIGHT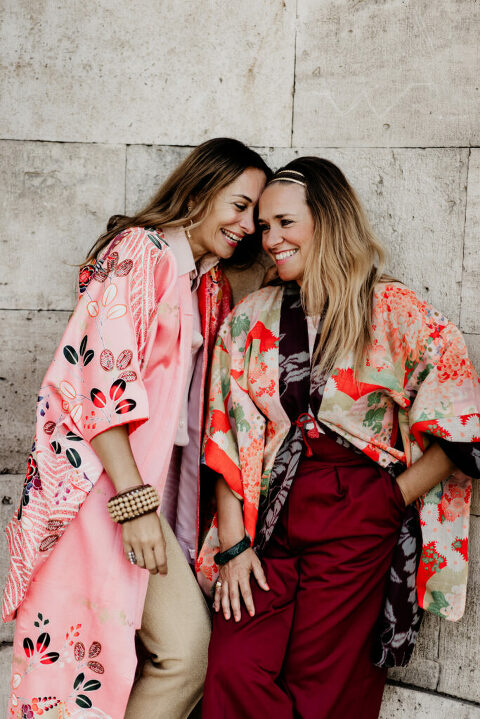 Name and Company: CLARA ISABELLA BOATTO AND EVA ZOE TREVISAN, FOUNDERS AND CREATIVE DIRECTORS AT DESIGN ANARCHY BY CHIC WEDDINGS
Tell us about your business name: When we started as "Chic Weddings," we were one of the first agencies organizing destination weddings in Italy and the local market was not as sophisticated. In 12 years, we have organized bashes of various genre, not only weddings. We still specialize in Italy but have produced events in other regions of the world, making our brand global. We believe in individuality and we embrace one important value: be uncommon, be you. We have recently chosen to baptize our evolution with a new name that better communicates what we stand for:
D E S I G N A N A R C H Y
Design: Because we are masters at planning but we are artists at designing. The look & feel of our events is still what our brand is most appreciated for // Anarchy: Because our motto has always been to dare and to express one's passions without worrying about external interferences. We love to push our clients to discover their inner selves and to enjoy this creative process.
Email Address: WEDDINGS@CHICWEDDINGSINITALY.COM
Instagram: @bedesignanarchy, @chicweddingsinitaly
Website: www.bedesignanarchy.com
Where are you located? Do you travel? We are based in London, Amsterdam and Venice, and have been organizing weddings and private parties since 2007, setting trends in the Italian market and beyond. Our team can travel wherever a client wishes as our planning, scouting and creative skills can work magic in any country.
How long have you been a professional? As founders, Clara Isabella used to work in corporate PR and Eva Zoe was active in the United Nations. We started our own private events brand back in 2007 and have since then organized hundreds of milestone celebrations, from birthday bashes to anniversaries and weddings.
How did you get your start? We used to work in different sectors and we suddenly felt the need to create a brand that belonged to us and that we could shape on the basis of our values, which are freedom, independency, craftsmanship, personalization. This is what we strongly believe in and what has defined our projects since the very beginning. Our first wedding was in the Italian Lake Region for a British couple and since then we have had the chance to meet wonderful clients from all over the world.
Describe your style in three words: Eclectic, personal, stylish
What services do you provide? We produce and design destination milestone celebrations for international clients that wish to host their special event in Italy, Southern France, Ibiza, Morocco, Bali and Worldwide. We also teach, coach, speak and consult private properties, tapping into our expertise in styling and production to make a statement in the world of private celebrations.
Do you have a team? We are an international team of eclectic, extravagant, dedicated, passionate, energetic experts in event production, creative experiences and unique trends. We are experts in Italian culture, but also draw on the influences from inspirational places around the globe. Our team is composed of producers and stylists with global intuition and a thorough knowledge of the event sector, working in partnership with local and worldwide talents.
How has social media changed your business? Pinterest has given our clients the opportunity to create a visual brief of their style that they can share with us to better explain what they have in mind for their celebration. Instagram has offered us the opportunity to daily connect with a global audience through pictures that showcase our work and our brand's personality.
How do you provide education to your couple's during the planning process? We dedicate a lot of time to understand our clients and to educate them in what's available in the market, the process, the considerations around their choices and instincts. We strongly believe in establishing great chemistry with our clients. Planning is a journey towards a very important moment in someone's life and it should be enjoyable as much as the event itself.
Only a team that is aligned with the client can deeply capture their expectations and transform them into an engaging and very emotional experience.
What makes a successful wedding? Every event is successful when everyone enjoys it. This rule applies to a wedding as well. We thus feel that the mission is accomplished when guests don't want to leave and the couple is having the time of their life.
List any accolades & awards: Our events have been featured in Vogue, Harper Bazaar, Martha Stewart. In our early years, we were fortunately to be listed as top ten destination planners in Europe by Brides Magazine UK.
What makes you different? We are eclectic, independent and focus all our attention on crafting highly sartorial events for our clients, each one with its own style, to enhance the power of each individual's story and life.
Do you want to offer perspective clients any advice on hiring a professional? Be transparent in what you need and want, so that any vendor you hire can truly tell you if they are a good match and if your vision is realistic and feasible.