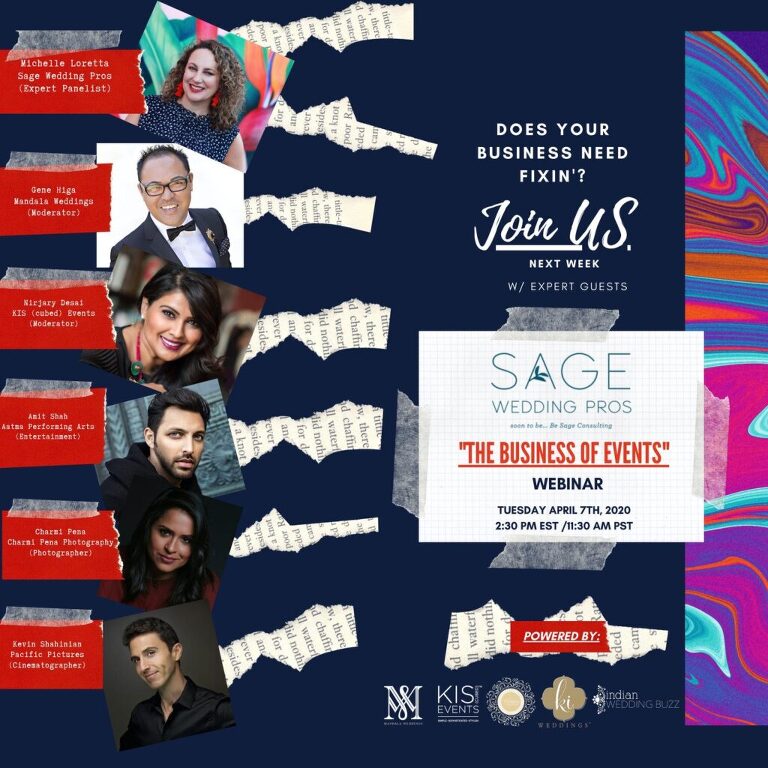 What better time than NOW when you are a Creative Event Business to be a Creative in Business! We have a panel of expert guests in store for you next week starting with our highlight Michelle Loretta of @sageweddingpros is a business consultant and financial strategist for wedding and event professionals. As founder of Sage Wedding Pros she blends her past as an accountant for Deloitte, a sales and marketing manager for DDLA, a merchandiser for Coach, and a stationery entrepreneur to strengthen wedding businesses worldwide. Sage Wedding Pros produces the next-level summit Be Sage Conference. Michelle has been asked to speak at a number of industry conferences, including NACE Experience, Biz Bash Live, and The Special Event. She was named to the TOP 1000 Event Professionals by BizBash in 2019.Also going us this week are several well known creative businesses Charmi of Charmi Pena Photography, Kevin of Pacific Pictures, Amit of Aatma Performing Arts/Mystic India, and our moderators Nirjary of KIS (cubed) Events & Gene of Mandala Weddings. Join us for an informative hour filled with how to be a Smart Creative in Business and learn about insights from these creatives on how they navigate their daily creative niche' lives in a successful way! Face it we all need a little Fixin'!
Follow our experts so you can keep up with them and reach out to them for future collaborations, advice & creative inspiration:
Sage Wedding Pros: Michelle Loretta (michelle@sageweddingpros.com) @sageweddingpros Cinematography: Kevin Shahinan (kevin@pacificpictures.net) @pacific.pictures Entertainment & Choreography: Amit Shah (info@aatmaperformingarts.com) @aatmaperformingarts Photography: Charmi Pena (info@charmipena.com) @charmipena Planner: Nirjary Desai (nirjary@kiscubedevents.com) @kis_cubed_events
Here's a downloadable PDF for your reference.
Outline of this webinar
Why is it important for creative folks that don't have formal business training to focus on being on their business vs. in their business?
SBA Loans: (Case by Case  Different Countries & What each government is doing.)

Define them

EIDL (Emergency Disaster Relief Grant)
PPP (Payroll Protection Program)

How do people qualify
How do people apply
How do different types of businesses get this?
State subsidized relief options?
Line of credit vs credit card?
Payroll tax credits?
Unemployment?
Cash Flow

Maintaining
Saving
Receiving
What are things that vendors can do the charge correctly  such as consulting time vs. labor execution time:

Decor/Floral/Rentals

Nirjary & Gene

Planning

Nirjary
Discuss Consulting Time 
Labor cost for week of events
Design Fee

Photo 

Charmi
Discuss post-production time

Video

Kevin 
Discuss post-production time

Entertainment

Amit
Give Top 3 Tips on how to be prepared for an uncertain future?
Discuss pre-event time that you are investing
Why is it important for Vendors to meet & speak with other vendors in their same category & collaborate with them?  
2 Min Break with Amit Shah-Dance Break
When should a vendor sign up for a full business rehaul; Too many people have a mentality that if it aint broke don't fix it, but processes and procedures can always be advanced and become more seamless, what is your recommendation?
What can you do today to build the longevity of your business  post CoVID?

Contact all photographers/videographer from previous events to get images/videos
Learning new apps for Instagram 
Work on your website by learning how to do it yourself

Ideas on how to be better prepared for the future if something like this happens again?

Give Top 3 Tips on how to be prepared for an uncertain future?

If someone sits through your class/seminars what will be the things they learn:

Michelle
Cashflow

If a vendor signs up today is there a special offer for them?

Michelle – FREE WORKSHEET HERE: https://sageweddingpros.com/2020/04/free-cashflow-plan-worksheet-for-event-businesses/
Normally Classes are $150, currently $75 willing to give $20 off if you mention this webinar for these dates: April 23/May6