Everyone and anyone who has ever attended an Indian wedding knows that dancing and music is very important to the celebration of the marriage. We met DJ RIAMU and his team at a wedding and knew we had to share his expertise with our readers. If you're looking to hire a wedding DJ that can fill a dance floor, well-spoken on the microphone and easy to work with. Look no further. Meet DJ RIAMU or as his friends call him Umair, one of the most sought after wedding DJ's in Southern California and beyond. This guy is a class act through and through.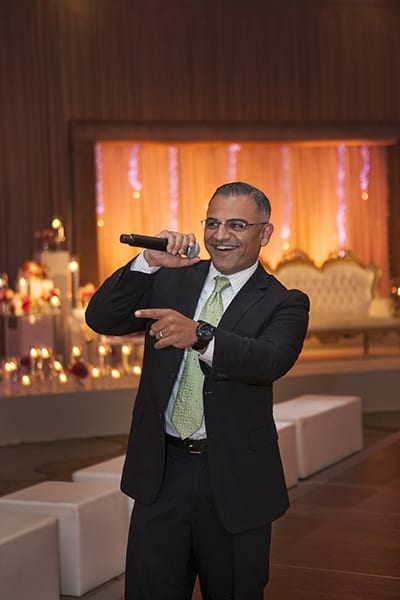 RIAMU ENTERTAINMENT
DJ, Lighting and Production
"Making your event more memorable"
Umair Zubair | President/Founder
Email: riamuent@gmail.com
Office: (949) 870-9695
(MW) Why hire a professional DJ?
(RIAMU ENTERTAINMENT) A DJ doesn't just play music but, we are so much more than that. We are the ones on the microphones. Couples at weddings have their DJ announce special moments and are the master of ceremonies (MC). We are also the ones that get the party going using our years of experience DJing/MC'ing thousands of weddings to make sure we rock the party all night long. Do you want a family friend or cousin doing this role? Wouldn't you want a professional doing this job? Riamu Entertainment is hired to do a "job," which is making these moments memorable for all your guests.
(MW) Agreed 100%. A DJ/MC should have the confidence, be well spoken and adaptable to the crowd at any given situation.
(MW) Do you know all the current hits?
(RIAMU ENTERTAINMENT) We take great pride in knowing the music from the oldies to the latest and greatest. We have staff that keeps all the DJ playlists up to date, and we work with every couple/client to make sure we customize every playlist. We go through a detailed process and preparation before every wedding. Our goal is to make our clients happy, the friends, parents and all their guests packed on the dance floor.
(MW) This is highly important to know that you play for the crowd. Especially when hired to create ambiance for different faiths, multiple ceremonies and especially for those family performances. It's good to know your knowledge is music is vast and always up to date.
(MW) Can you play more than just Indian wedding music?
(RIAMU ENTERTAINMENT) Yes, we do about 50% Indian/fusion weddings and the other 50% from different cultures. Yes, embrace the music from a broad spectrum of genres of music. Since we have been in business for over 25 years, the experience that comes with doing so many weddings allows us to know a pretty wide range of music.
(MW) It's reassuring to know you can guide each of your clients make great decisions. Make suggestions, know what has worked to move the crowd  in the past.
(MW) What other services does Riamu Entertainment offer?
(RIAMU ENTERTAINMENT) We cater our services towards everyone who is seeking an elegant and memorable event. In addition to our DJ services, we offer an array of services, including event lighting, projectors/screens, TV monitors, custom dance floors, live musicians, and dancers. We can also bring in Dohl players for the Barrat. Speaking of the Barrat, we have a mobile system to help keep the crowd moving, dancing and having a great experience. Our experienced staff can provide you with many ideas and help you throughout the entire event. Due to the attention, we give each customer; we take great pride in a high degree of satisfaction from our clientele.
(MW) Do work with the planners, performers, and the venue to create the perfect environment?
(RIAMU ENTERTAINMENT) Coming from a professional corporate background and doing many public speaking engagements, I feel hiring a company that has a professional reputation and a 5-star rating in the event entertainment business, is paramount. Working with planners and performers creates unique events/weddings for each client. Being the wedding business working with other professionals that specializes in private events helps make every event a success.
(MW) What makes RIAMU different?
(RIAMU ENTERTAINMENT) With over 25 years of experience in the professional entertainment business, we also hire only the top industry professionals on our staff. We are "setting standards by which other companies are being measured!" With professional MC/DJ some of the best in the business we offer a 100% money back guarantee. We stand by our word and our experience. Lets us how to make your event more memorable!!!!!
(MW) THANKS, Umair for the insight and sharing your expertise. As you can have read. There's more to a wedding when hiring a professional DJ. The experience involved in any given situation to be adaptable. There's the connection you have with the vendor and of course a 5-star reputation. We feel the RIAMU Entertainment does all this and so much more. If you are looking to hire a DJ/MC for your wedding, reach out to Umair riamuentertainment.com. He's one of the nicest guys we know. Just look at the photo he sent us while working a real wedding. Great smile, Umair! Keep rocking the crowd!