Meet L'Escape Destination Weddings – VENDOR SPOTLIGHT
They say everyone has a story to tell. But, we have never found this to be more true than when we met L'Escape Destination Weddings. This passionate couple will open your hearts, minds and eyes to the endless possibilites of creating a wedding experience that is second to none. We continue our vendor spotlight series with a profile on L'Escape Destination Weddings. Prepare to be inspired, because dreams do come true.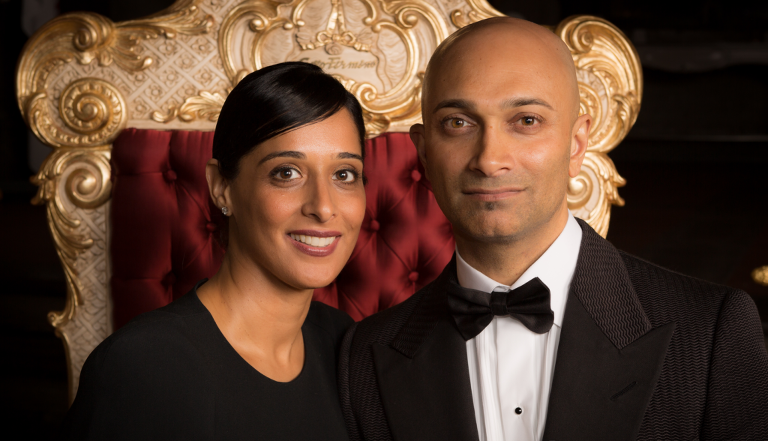 L'Escape Destination Weddings
www.lescape.com
hello@lescape.com
Where are you located? Do you travel? We have offices in both Miami, Florida and Toronto, Ontario
* In the wedding industry we only focus on Destination Weddings which means your wedding has to have a travel component.
* My business partner and wife, Jasprit and I, have traveled all over the world. We are blessed to be able to jump on a plane at any time and explore this incredible globe! Our travels have taken us to every continent except Antarctica (Jasprit is not a fan of the cold!). Our love for history, architecture, design, fashion, and food keeps our minds inquisitive, and this reflects in our business acumen.
How long have you been a professional? I've been in the travel field for 28 years! Wow, that sounds like a very long time; however, I started in the spring break market during my first year of university. I realized I could travel the world and get paid for doing so!
How did you get your start? I first started in the travel world during university. I saw a poster around campus that said 'TRAVEL FOR FREE. GET 20 OF FRIENDS, AND YOUR TRIP IS FREE!' I ended up selling 120 trips and not only did I travel for free, but I was also paid cash for the other 100 trips I sold! After I completed my degree in Economics and Political Science, I worked for a large Corporate Incentive House. That lasted eight months; then I started L'Escape in 1997 as a Corporate Incentive Travel Company. Our clientele included Hewlett Packard, Chrysler, Pfizer, and some other Fortune 1000 companies. In 2009, we expanded into the field of Destination Weddings after I married my soul mate! Jasprit, my wife and business partner, has a Master's in Food Science and was a Director of a Multi-National Corporation before she left and decided to take on a pet project which is now L'Escape Destination Weddings! I am blessed to live, work and travel with her!
Describe your style in three words: Stylish, Sophisticated, Timeless
What services do you provide? L'Escape is a full-service company. I like to say "We are your travel agent. We are your wedding planner. We are your event management team. We can be your stylist (depending on the complexity of your event!). Having control of your entire event is a must for our business model. It creates balance for everyone involved. I compare it to being the General Manager, Head Coach, and Quarterback of a football team.
Do you have a team? Since we focus only on destination weddings, having teams are essential. Our travel team manages all the travel and logistics of your event. Our planning team manages all the events and the fine details. Jasprit is our closer as she is very knowledgeable about destinations and resorts. I am more the business side, and now and again, I love to be the lead on site. I am obsessed with the flow of events. No matter how beautiful your event looks, if the flow is not right, then the guest experience is compromised, and in my humble opinion, that is one of the most important elements of an event.
How has social media changed your business? It's ALL about social media these days. People have instant access to not only your work, but they also have instant access to reviews. Social media just adds another layer to a business. It can be positive, or it can be negative. L'Escape has been cautious in growing because we will not compromise our work, our service and our integrity for more business. Once you have one bad review on social media, that scar is very difficult to erase. I embrace the changes in social media, and it's imperative to be ahead of the curve!
Instagram: https://www.instagram.com/lescapeworldwide/
Facebook: https://www.facebook.com/lescape/
How do you provide education to your couple's during the planning process? We like to say, the more information we give a couple, the better their decision-making process is. L'Escape is big believers in sharing all the knowledge we have even before a couple becomes a client. We are not afraid to share because we have been blessed. Jasprit and I live in a world of abundance. Our life motto translates to our business motto.
What makes a successful wedding? One word…EXPERIENCE! By this I mean, did the client, their families, their guests, and the vendors have an excellent EXPERIENCE from start to finish. From being on budget, to selection of the right resort/destination, to selecting the right vendors, to travel, to hospitality, to design of the events, to flow of the events, to guest management, to being on time, to selecting the right venues at the resort, to creating exceptional food and drink, to the after party! I could on and on, however, if the couple and their families take a step back a few days or weeks after the last event and look back at the EXPERIENCE and smile, we have accomplished our goal, and the events deemed successful!
List any accolades & awards: Our reviews say it all! Our most recent review was from a couple who married in their mid 30's and are soul mates. She is a busy doctor, and he is likewise an incredibly busy lawyer. Their story is very familiar to ours:
It is not an understatement to say that if L'Escape were not our wedding planners, our dream wedding would not have come true! From the moment of our first meeting until the last moments of our wedding, we could not have asked for more. Throughout the year of planning, it became very clear to us that wedding planning is not a career for Jasprit and Raun, but it is a passion for them, and any event they put their hand to is treated with the utmost love and care. Over the year, we can say that Jasprit and Raun have become part of our family. The planning process involved many components as we had multiple events and two different wedding ceremonies – Sikh and Catholic/Civil wedding. Jasprit's ability to organize the logistics of securing venues and vendors was phenomenal, and she was very accessible to communicate with on a frequent, regular basis. We appreciated all of the countless hours spent with us reviewing the various components of planning our special wedding, as we felt that all of our concerns and desires were addressed throughout the process. The day of coordination was phenomenal and a must-have for any couple wanting to ensure that their wedding functions run smoothly. Both Jasprit and Raun ensured that our events ran on schedule and that our vendors were taken care of. Countless times, our guests complimented us on how wonderful Jasprit and Raun were. Having them present throughout our wedding afforded us peace of mind and allowed us to enjoy each and every moment of our wedding truly. We can not thank Jasprit and Raun enough for their dedication to our wedding in making sure that it was carried out seamlessly. We will forever have a special place in our hearts for L'Escape and would highly recommend them to all of our family & friends!
– Amandeep & Nigel
What makes you different? I'll list our Top 5! (or 6)!
(1.) KNOWLEDGE: I've stated this earlier however I believe our competitive advantage is KNOWLEDGE! We have traveled the world and have stayed in many beautiful properties. Our eye and attention to detail is I would say a little sharper because we look for things that most people would not. Our expectations are heightened!
(2.) MINI CORPORATION: With my Corporate Incentive experience and Jasprit working as a Director for multinational, we have taken the position to treat every client like a mini-corporation. The experience, service, and communication is professional. Everything is documented, and we do not use WhatsApp for important decisions. Everything is documented on email!
(3.) CONNECTION: We are blessed to have been afforded the opportunity to run this business, not out of necessity, but one of joy. Our connection to the couple and their family is important, and there has to be a synergy between both L'Escape and the couple….we chose them, and they chose us!
(4.) EVENT FLOW: I have been running events and parties for the past 35 years, and I get bored quickly, so it's imperative that our events are engaging and entertaining. If you've been to an L'Escape event, you will know what I am speaking about!
(5.) RELATIONSHIPS: We establish great relationships with both the client, their families, and our vendors. It takes a team to create an exceptional event and its imperative as the quarterback, we create that environment!
(6.) GLOBAL CLIENTELE: Being global is important to us, and we are fortunate enough to have worked with two billionaire families. One from India and another from Saudi Arabia. Working with their teams gave us the confidence to able to work with complicated budgets and events. This translates to our clients in having confidence in our company's ability to produce exceptional events.
Do you want to offer prospective clients any advice on hiring a professional? Absolutely!
(1.) PLANNING: Do not base your decision on price, base it on value! What are you getting in your professional? Experience, reliability, professionalism, knowledge. All these are important. We have had countless couples come back to us after they have hired someone for less money. I always say, you get what you pay for!
(2.) EXPERIENCE: Experience is key for destination weddings. Working around the globe, in foreign countries is not for the faint of heart. You have to have relationships and a global network to succeed. We specialize only in destination weddings. Hire a company that does more than five destination weddings a year!
(3.) WEDDING BUDGET: Have a realistic budget for your wedding. Weddings are not inexpensive these days so chose your location and venue based on your budget vs. choosing your budget based on the location/venue you want or love. Remember life continues after your wedding (and so do those bills!)
(4.) TRUST IS A MUST: Trust and intuition are key when choosing any professional. If you don't hit it off from the get-go, then they are not the right company for you
(5.) SIMPLIFY: Hire someone who can make your life easy. You have to enjoy the ride and the process. There are plenty of details, and you have to like the person you are working with!