If you're getting married in 2020 or even the earlier part of 2021, there's no question that some of your plans will probably need some adjustments to make sure you and your guests have a happy and healthy day. Today we're talking ceremony plans with Nahid Farhoud of Nahid's Global Events. With some careful planning, you can still have the ceremony of your dreams while keeping everyone safe. Below, we have ideas for every aspect of your ceremony.
Your guests
Let's start with the most important element of your wedding day – the special people you have chosen to be there to witness it! For the foreseeable future, guest lists for weddings will be more intimate; no more than 50. This can be a difficult conversation for some couples. Narrowing down your friends and family to the VIP list can be hard, especially at an Indian wedding. Large guest lists make health and safety precautions much more difficult to plan and execute. The main priority is to keep you and your guests safe and happy so that you can focus on enjoying your day.
We know you will probably have more people you want to invite than can realistically attend. For guests who cannot make it or are perhaps too at-risk to joining in person, we recommend a live-stream of the ceremony. Most videographers are able to provide this service as part of their package (and on that note, wedding videos are more important than ever for capturing and sharing your wedding day).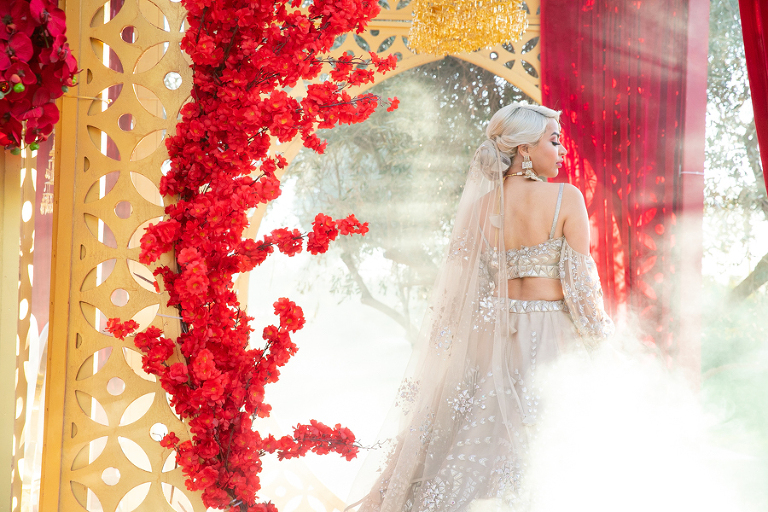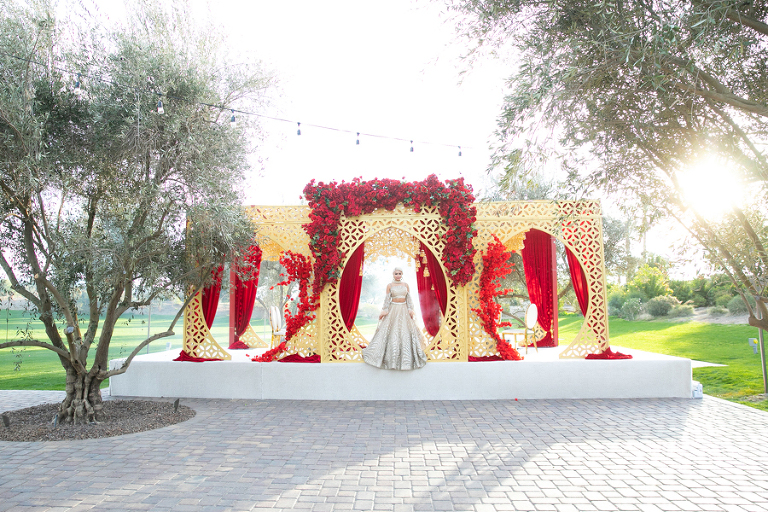 Welcoming your guests to your wedding
When guests arrive, you can have them greeted by an attendant wearing masks and gloves to protect the guests. The welcome station can serve as a sanitizing station. Guests can be given masks and hand sanitizer before entering the ceremony area. Welcome boxes have been a popular tradition for a while for out of town guests, and they are usually left at hotel desks. A great twist on this tradition would be an update for the current times is to bring the Welcome Box to the ceremony. We know masks and hand sanitizers don't really scream romance, but you can give them an elegant upgrade by packaging them in pretty boxes or gift bags that have the added bonus of cutting down on touch points between guests and attendants. Other ideas to include in the boxes would be water bottles, programs, or fans for a hot day. Brides who really want to upgrade their welcome boxes can have them customized with their monograms or wedding design. Everything from the packaging to the masks themselves can match the theme of the wedding so as not to take away from the aesthetic you want.
The guest book is an important tradition to a lot of brides and grooms, but the conventional pen and book format has a lot of touch points between guests, so it's best to skip them for now.
For couples who would like guests to have their temperatures taken before attending the wedding, this can also happen at the welcome station. We recommend recruiting a family member or a member of the bridal party to complete this task in order to make guests feel more comfortable.
We often recommend that water stations are provided for guests before and during ceremonies, especially if they take place outside on a warm day. To cut down on touch points for guests, instead of a self-serve water station, a gloved attendant passing out bottled water to guests.
It is also important to have a seating chart at the welcome table to let guests know where they should sit (more on this in the next section). The attendant can help them find their seat.
Seating at your wedding
Seating is the trickiest part of the ceremony due to social distancing, but we have some ideas to allay any uneasiness guests may be feeling. Ceremonies will have assigned seating with guests from the same household seated together, six feet apart from the next group of guests. Seats will be labeled, but also have ushers (either from staff or a member of the bridal party) seating guests to make sure they are not sitting in another guest's seat. In an outdoor setting, you can get creative with the seating configurations and have the rows farther apart. Inside a house of worship with less flexible seating, only seat guests in every other row and not directly behind another group.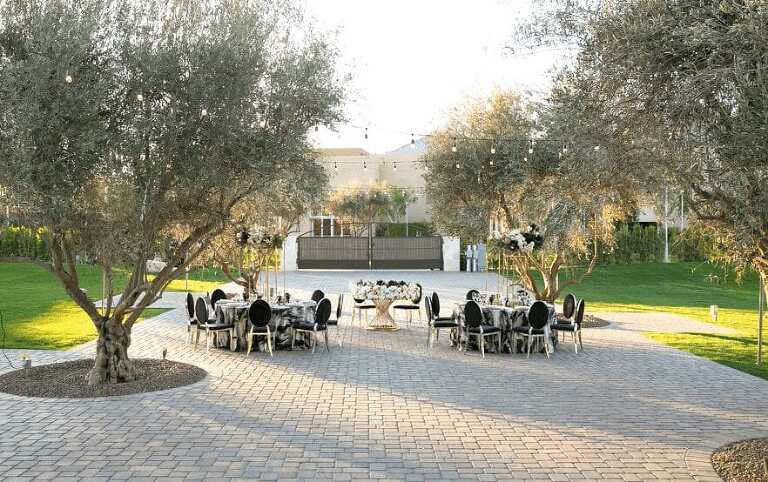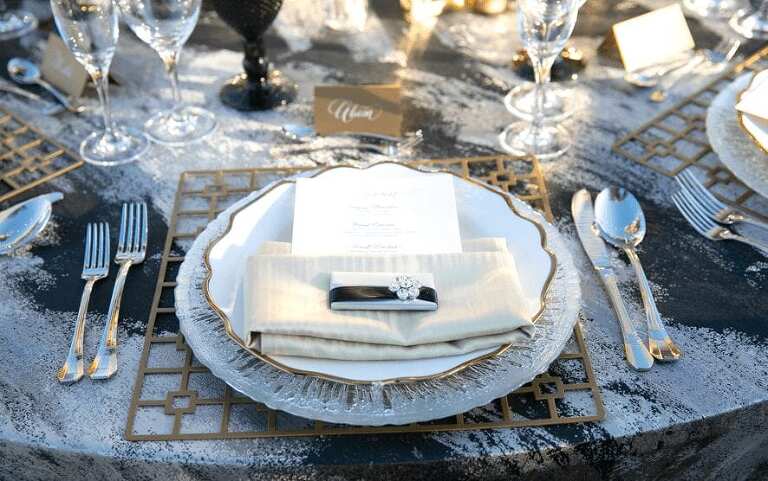 During your ceremony
There is typically lots of participation from family members on the mandap, as well as at least one priest, making physical distancing a challenge. Because the mandap is such an ornate and elaborate focal point, we suggest a decorated sanitizer available on the mandap so if anyone is touching the same items they can make sure to sanitize their hands before and after. Try to work with the priest to minimize the number of people involved in the ceremony. An option is to build the stage and mandap structure larger than usual so parents from both sides do not have to sit too close to one another. Alternatively, you can position only the bride, groom, and priest on the stage and have family come up as needed to participate.
The Procession
While bridal party size goes in and out of fashion, small bridal parties will be a must this year. The more individuals included in the procession, the more difficult it is to keep physical distance. When the bridal party comes down the aisle, it is best that they walk one at a time in order to keep six feet distance unless they live together. While children are often included in bridal parties and can make for some funny and special memories, it is best that they not participate during the ceremony given their unpredictability. They can still pose for a great photo op during the portraits! On this note, although it is often the tradition for a ring bearer or the best man to deliver the rings and mangala sutra to the groom at the appropriate time, we recommend the groom keep the rings and mangala sutra on his person the entire time to avoid any possible contamination.
Credits – Venue – Renaissance Indian Wells | Floral and Decor – Kismet Event Design | Planning – Nahid's Global Events | Mandap – NFP Events | Photo – Braja Mandala | Lengha – Frontier Heritage | Hair and Makeup – Beauty by Lishma | DJ – Riamu Entertainment | Favors – SoBelle Favors | Model – Nida Lodean