The search for the perfect outfits for all of your events leading up and on the day of your wedding can be overwhelming. Searching the internet and social media for days and the possibilities are endless. What if you could meet, talk and design your own custom outfit with a designer right here in the US? Start with a vision, incorporate your own sense of style and and talk with an expert who can walk your through every detail? What if we told you that can all happen today? Well, we found the perfect solution for you and it's no secret that Tania Kottoor if your solution to designing the perfect wedding outdoor for not only you, but he family and bridal party. As a media outlet, this ione of the many aspects we look for when publishing a wedding. We sat down with Co-founder – Tania Kottoor of WestxEast to introduce her self to our readers so we can help you get starting in the right direction.
WESTxEAST –  A Digital Bespoke design service for the South Asian market
TAKEAWAYS:
Working with a US based designer, virtually can help in communication and craftsmanship
Clear communication on what you truly want is the key and achievable
One point of contact to design everyone's outfit without the hassle of travel
The design process starts from a simple online questionnaire, to a consultation and moves into fabric making and so on.
Design books with swatches of every texture, color and multiple options followup with 2D sketches to visualize the final product
You are involved in overstep of the design process without leaving your busy life. Seemless hands on process.
Contact WestxEast at least 6 months out or more to start
Anticipate delays in shipments due to the Covid-19 pandemic
100% Woman owned
Keep moving in the design process and do not overthink your decision.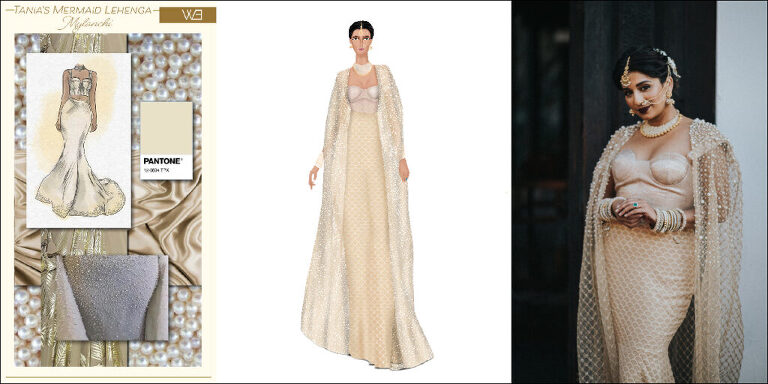 Learn the top ten tips for designing your custom wedding gown.