You might have stumbled across this post, searching for the perfect way to propose to your girlfriend. We applaud you for being here and taking the next step in your relationship seriously. The advice below was contributed by one of our readers, Saral. His planner, Nirali Shah of Nirali Shah Events, brought this entire experience to life. She worked closely with Saral and Bijal (Instagram Influencer and medical professional) to create the perfect proposal.
Read on to to get another man's perspective and ideas to going above and beyond for the one he loves.
4 Tips for Proposals
On December 30th, 2019, I proposed to my girlfriend on the cliffs of Cuvier Park in La Jolla, San Diego. Looking out to the Pacific Ocean on a partially cloudy afternoon, I remember my brain playing me a slideshow of our last eight years together while I waited for my friends to bring my (future) fiancé to the planned location. I was more nervous than I expected to be but also had this arrogant confidence that the perfect night was beginning. Right before she showed up, my photographer, Gene Higa, who was hiding in plain sight with his camera, gave me a nod and said, "you're ready for this moment." He was right. Spoiler alert: she said yes, and our perfect night ensued.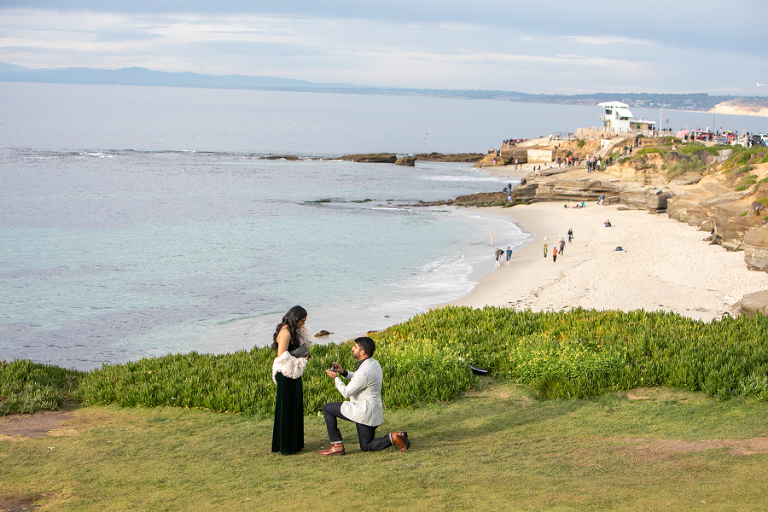 Investing the time to plan for that moment was the best decision I could have made. While everyone has a unique approach to this milestone, I think it's vital that you take the time to reflect on what's important to her and what's important to you before that day arrives. Below are my personal top 4 tips for how to plan and execute a perfect proposal.
It's your moment, so make it unique…

I probably spent a few weeks googling proposal ideas. I came across "proposal planners" and countless blogs/Instagram pages. None of it felt right, though. Finally, I sat back and thought about the places and experiences that my fiancé and I always reminisced about. We love to travel, we love to go to beaches and lakes, and we love to watch sunsets. Once I stopped looking at other people's experiences and focused on our own, it became a lot easier. Choosing San Diego (our first trip together) on a cliff overlooking a beach at sunset was an obvious choice. That also leads me to the next tip…

She's already told you what she wants – so listen…

No – I am not saying she has given you the blueprint to the perfect plan. However, if you are at the stage where you are planning to propose, then there is a good chance you've had conversations or she's made remarks about what that day could look like. LISTEN. To some – less is more and to others – more is more. Case in point – I've had friends propose in a Pizza Hut, and I've had friends propose while jumping out of airplanes in exotic locations. Each of those moments was equally important and cherished by those couples because it fit their personalities. Make sure to scale the experience based on who she is and what she values. For my fiancé, the proposal was something she had always fantasized about (probably more than a wedding). I knew the importance that it played in her heart, so I scaled it up accordingly. I was well aware that she wanted a private proposal but that she would want to celebrate with her closest friends and family afterwards, so I made sure to include it in my plan.

Ask her friends/family their opinions (if they can keep a secret)…

Proposing is a nerve-racking experience. I don't care what anyone says – you will be a mess at some point leading up to popping the question. If you can trust her friends/family to keep a secret, they will be your greatest allies. No matter how well you know your better half, her girlfriends/sisters/cousins know her differently. Ask for their opinions! It's a goldmine! Secondly, if you are scaling up the proposal experience, let them help you because 1) they will love to be a part of the experience, and 2) they will be the first to know if she is suspicious of your plans! I would classify my fiancé as a fashionista while I'm someone who wears basketball shorts and a t-shirt 95% of the time. Her friends/family were instrumental in making sure she was wearing the right dress, had her nails done, and was completely ready for a moment she was not expecting. 

The difference between something good and something great is attention to detail…

As you plan the total experience, take more time to think about the little things that will make the rest of the experience feel seamless. The details are going to be different depending on the experience you're planning and the type of people you are. Here are a few examples of some things that I ended up doing – 1) Capture the moment. Whether you hire a photographer or ask someone to capture it on your phone, this is a milestone you'll want to remember. 2) Write it down. I talked to a lot of my buddies in preparation and they all told me the same exact thing – I don't remember what was said in the moment but I wish I did. I decided to write out what I was going to say and I put it in a scrapbook that holds all of our pictures. She loves it. 3) Give yourself an extra 30 minutes. If you're planning a party, a photo shoot, or anything after you pop the question, make sure you give your fiancé and you an extra 30 minutes to just soak in the moment. Don't rush anything. 4) The proposal is just the beginning. Whether or not you are planning a party or plan to spend the rest of the day alone, just make sure you have a plan that is centered around her. This isn't a moment to wing it. BONUS) She will cry. Have her friends give you some of her makeup so she can touch up. Please don't argue with me on this one.