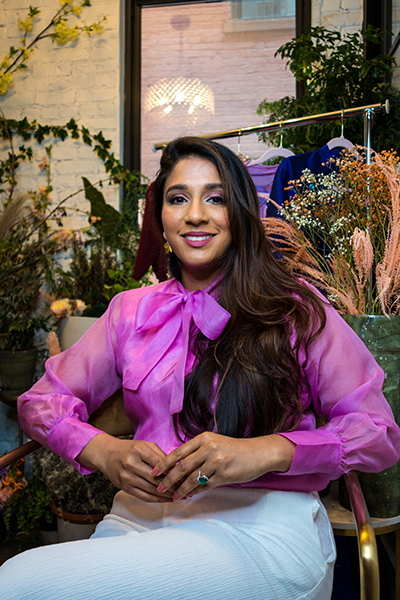 Your wedding is a huge day and you deserve to feel as beautiful as you look, which makes it even more important to love the dress you're wearing. So why not design your own? 
Meet Tania Kottoor, Wedding Stylist & Co-Founder of WESTxEAST. Tania designed her own award-winning wedding as well as 75 customized outfits for herself, her wedding party, and her family members. And you know what? She can help you or a loved one getting married create the dress of your dreams. We sat down with Tania and asked her questions about what it's like working with a U.S. based bespoke brand or designer:  
We asked Tania Kottoor 10 questions that you might have about working with designer to produce a custom outfit: 
What should a bride expect when it comes to working with a wedding dress designer?

An expert designer will guide you in understanding silhouettes, colors and fabric options. They will walk you through the entire process from conceptualization to delivery. 
What's the one thing you wish brides-to-be knew when it came to dress shopping?

Even though we're a virtual service, I do recommend going into boutiques that carry gowns and trying on different silhouettes and seeing what you feel comfortable in and what flatters your body. 
What's the benefit of working with a U.S. based designer rather than one overseas?

You get to speak to someone who has a luxury design background and can communicate easily with. Avoid the random aunty or tailor in India. They will always have a hard time understanding your vision. You're putting yourself at risk because they are not usually transparent and there is a higher chance that you will get something you're not satisfied with. With WESTxEAST,

you're constantly reassured that you're getting exactly what you want due to our transparency .

 
How have you mastered the production process of a client's wedding dress? WESTxEAST provides an

haute couture-like process

that is completely digital at an accessible price point. Our team will connect you with a Design Consultant that will be your point person throughout the entire design process. The team creates B&W silhouette mood board, Digital Design Book that includes digital samples of hand-dyed swatches, trims and 2D sketches. You will have a Virtual Design Meeting via Zoom to select from the options that were sourced for you and keep you updated with progress pictures during production from our atelier. The entire process can be done from the comfort of your own home! 
What was the difference between designing your own wedding dress and helping others design their dream dress?

My wedding included 75 custom outfits. It was deeply personal and as a Wedding Stylist, I created vision boards, mood boards, 2D sketches and sourced samples of fabrics before anything went into production. I had to clearly map out everything to execute properly. It's the same process for clients.   
What's the biggest myth you've had to bust for brides during the creation process?

Brides, mothers of brides, sisters of brides etc believes, " More is more." The truth is, less is more. There needs to be a nice balance. A bride does not need multiple colors and heavy embellishment all over to really stand out. Take a mental note that you will have your makeup and hair done. Then you add on jewelry to finish the look. The bride still needs to look and feel like herself. 
What's the first thing you and the client discuss when starting to create?

I ask, "What is the color scheme for the wedding?" I always recommend starting with the color palette. Color plays a huge role in designing outfits and events. It's the foundation before you start playing with other elements like embroidery
How do you help a bride who has no idea what kind of direction they want to go in?

Find reference pictures on Pinterest or Instagram and fill out our questionnaire that breaks down the necklines, the skirt silhouettes, Pantone colors that they can select from. The questionnaire is super helpful because it allows you to see the various options before we start the design process. 
What's your favorite part of designing dresses for brides?

I love seeing the client's vision come to reality. I'm happy to see their wedding pictures and how hard our team worked to create a truly unique piece. 
How have your past experiences in fashion helped shape you to be a dress designer?

My co-founder, Liya Thachil and I come from a luxury background working with high-end designers who have a very intricate process in designing bespoke dresses. We took the same process and created a

virtual platform

for South Asian Americans who can be part of the special process and let them be their own designers. 
Working with a bespoke brand or designer means you have full creative control and you won't get that anywhere else. Here are 10 facts when custom-designing your outfit: 
Color

– Select any Pantone colors you like because most garments are hand-dyed.

Silhouette

– Endless options to select from like skirt shapes, necklines, sleeve lengths etc. 

Base Fabric

– Endless options like silk, velvet, chiffon, taffeta, cotton-silk etc.

Indian Craft

– Endless options like lucknow zardozi, mirror-work, foil print  handloom mulberry silk, hand-block etc.

Reference Pictures

– Share all of your inspirational pictures with the designer. 

Mood Board

– A mood board with details + selected Pantone colors. 

Samples

– A personalised book of hand-dyed swatches, printed fabrics, embroidered fabrics, trims and laces.  

Sketches

– Digital or hand sketch of the outfit based on the swatches that were sourced so you can see the outfit come alive before production. 

Made-To-Measure

– It doesn't matter if you're petite or plus size. All garments are customized to your body. 

Progress Pictures

– During production, the client receives pictures of the dyers dyeing the fabrics, pattern makers cutting the fabrics, embroiderer doing hand embroidery work and finally the tailor stitching the garments together.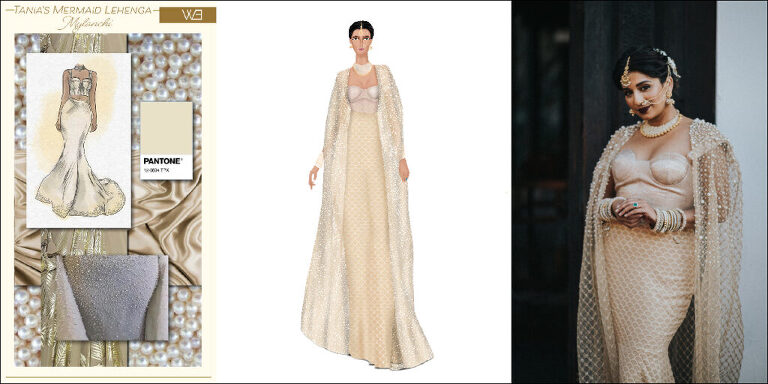 SUPPORT WESTxEAST
WESTxEAST just launched our first crowdfunding campaign through iFundWomen! We have worked very hard to grow our small business over the past 6 years, and we are very excited to have you become a part of our journey.
We are aiming to raise $25,000, to expand our production team in India, & thereby support the livelihoods of textile artisans who are struggling amid India's w COVID crisis. We are offering a range of exclusive gifts in return for each contributionincluding significant discounts on our design services!