Many wedding guests, parents and even couples have a strict vegetarian diet, which includes not eating eggs. For cake lovers this is a hard one as there are not many wedding cakes made without eggs. We were so excited to find out that Southern California baker Sweet Cheeks Baking Co makes wedding cakes with no eggs YAY!  They were kind enough to share with us their recipe for an egg free cake.
This Vegan Chocolate Cake recipe can be used to make traditional cake, cupcakes, and even our Dimples (cake cookies). It can also be used it in loaf form to create slices perfect for snacking – no icing needed!
Ingredients
1 cup – All-purpose flour (sift)
1/4 cup – Wheat germ
1/4 cup – Flaxseed
1 cup – Sugar
1 tsp – Baking soda
1 tsp – Salt
3 Tbsp – Dutch processed cocoa powder (sift)
1/3 cup – Vegetable oil
1 Tbsp – White vinegar
1 tsp – Vanilla extract
1 cup – Water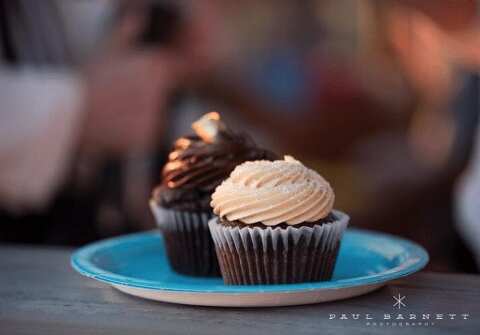 Directions
Preheat oven to 350ºF.
Mix all dry ingredients in a bowl.
Add wet ingredients to bowl with dry ingredients and mix until combined. Batter will flow easily and be very dark brown.
Spray and line pan, then fill with batter.
Bake at 350º for 25 to 30 minutes.
Yields
1 – 9×9 square pan (or double the recipe and use 1 – 9×13 pan)
Note
All-purpose flour can be substituted for wheat germ and flaxseed if unavailable.
Chocolate chips (3 oz) are great on top!
Want to get in touch with Sweet Cheeks Baking Co for your wedding? CLICK HERE to visit their site
– they also offer a selection of vegan, gluten-free, and dairy-free options to accommodate clients with dietary restrictions. Nobody should ever have to sacrifice delicious dessert!