The love of your life just said yes. Now what? Time to prepare for the wedding, and that means trying to figure out who will be part of your entourage. As the groom, you'll have to worry who your best man and groomsmen will be.
Much like proposing to your fiancée, asking your best guys to be at your wedding is an art. Check out these ways on how you can do just that:
Make a Toast
Toasts are always a great way to say something important to a group of people. With your best buds with you, make a short speech of how thankful you are for their friendship and announce shortly thereafter that you've chosen them all to be your groomsmen.
Groomsman Gift Box
An argument can be made that it's harder to pick out one item to give from a range of really good options. So why not just give a gift box instead to bribe your guy friends to be your groomsmen on your wedding day? Fill it with all the things they love and things that remind you of them.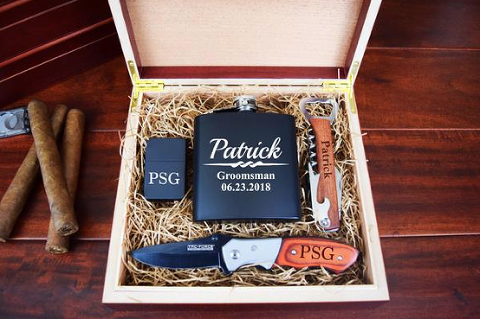 Travel Tag
If you're planning on doing a destination wedding, the best way to break the news to your chosen groomsmen is with a personalized travel tag. Not only does it serve as a cool groomsman gift, but it's also practical because it's something that the guys can bring with them every time they travel.
Prepare a Survival Kit
Weddings are serious business, and it takes the right kind of tools to survive the entire affair. Together with your invitation, send a survival kit filled with toiletry essentials such as toothbrush, shaving cream, and face towel so that your chosen groomsmen have practically no excuse not to come.
Cufflinks Say It All
A customized cufflink that says "Suit Up" or the initials of the engaged couple works both as a great groomsman gift to accompany the proposal and an essential accessory to complete their formal wear during the wedding. Depending on your wedding, you can have the cufflink in classic metal or rustic wood.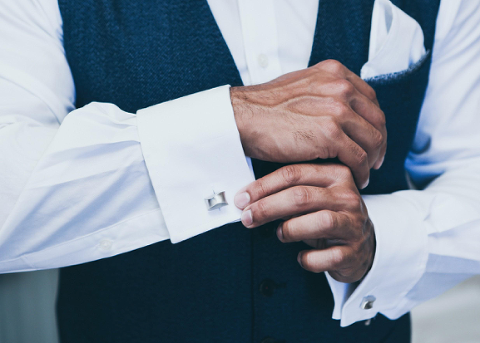 Cheeky Groomsman Underwear
Truly the pinnacle of the male bonding experience is coordinating to wear the same kind of undies. With a card attached to explain the package, have boxers with the words "groomsman" or "best man" delivered to the doorstep of your guys. This will certainly draw out a few laughs.
Make a Video
Create a video announcement, and send the clip to your groomsmen, or bastardize a famous movie scene where you change portions of the dialogue to fit the context of the proposal. Think The Godfather or any of the Bond films. If you're funny enough, you just may get viral if you upload the video on social media.
Superhero Shirts
Geek out with your buddies by handing out superhero shirts to everyone while you ask if they want to go to the wedding as your groomsmen. They will have to say yes; otherwise, the Avengers squad won't be complete. Or Justice League if you're into DC Comics (there's no discrimination here).
Want to see more? Visit Groovy Groomsmen Gifts for more ideas and inspiration