Just like for most women in the world, your wedding day is one of the most anticipated days of your life. We had our entire wedding planned to a T with celebrations starting out months before the big day. Weeks before the first event, we went into a state lockdown due to COVID-19 and like most brides, I was forced to decide whether to keep the original wedding date or postpone. We decided to take a chance and moved all our venues and vendors to a date at the end of the summer in the hopes that the situation would get better.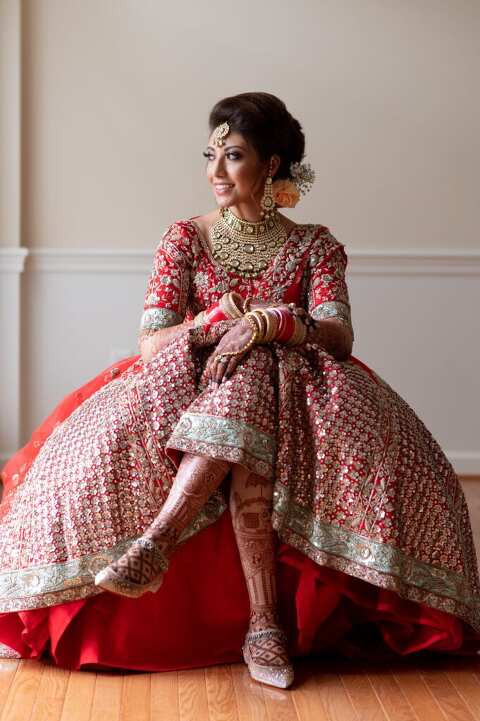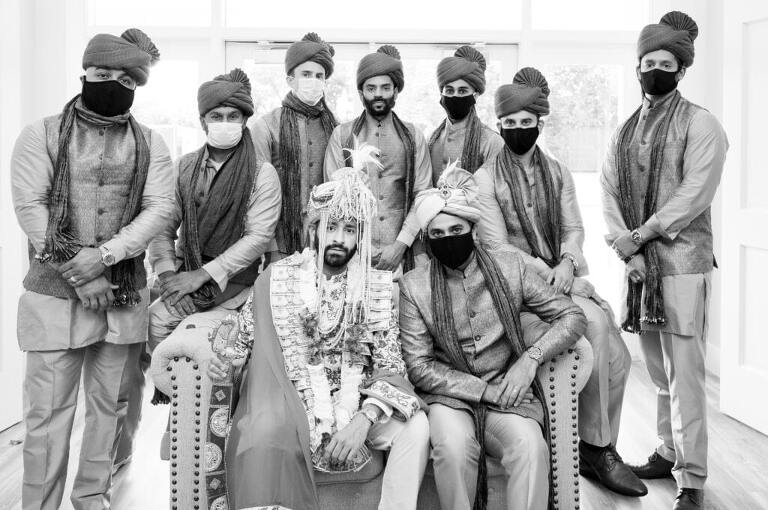 The pandemic clearly did not go away but we decided to move forward with the new date and make the best of it. We changed venues from Washington, DC to Virginia which allowed 200 people outdoors. We cut our guestlist by 1/3, which some were supportive of and some upset that they did not meet the cut. Unfortunately, many of our closest friends and family were not able to attend especially those that had to fly in. However, it turned out to be a blessing for us. We were surrounded by people who truly fought the circumstances to be there. We turned our Washingtonian classical wedding into an outdoor dream with backdrops of a waterfall and green imagery for miles.  We felt like we fought all odds when we were able to find an open date that was also available for each one of our vendors. Having planned everything outdoors to make sure our guests felt comfortable, the only thing we relied on was the weather.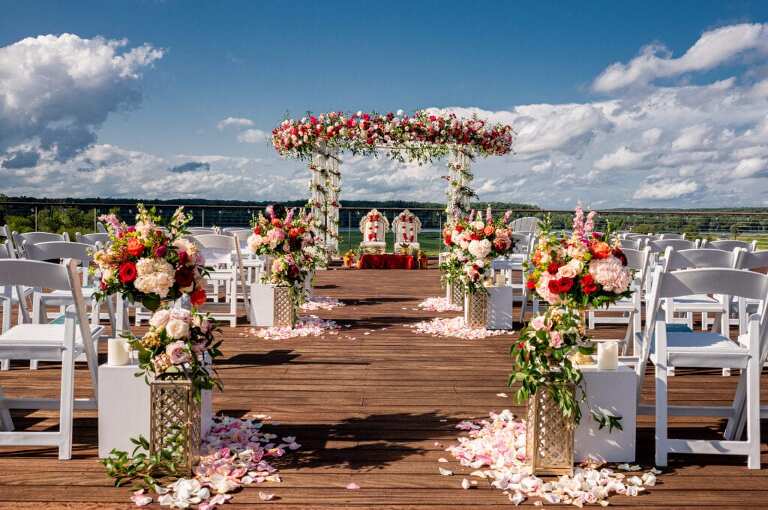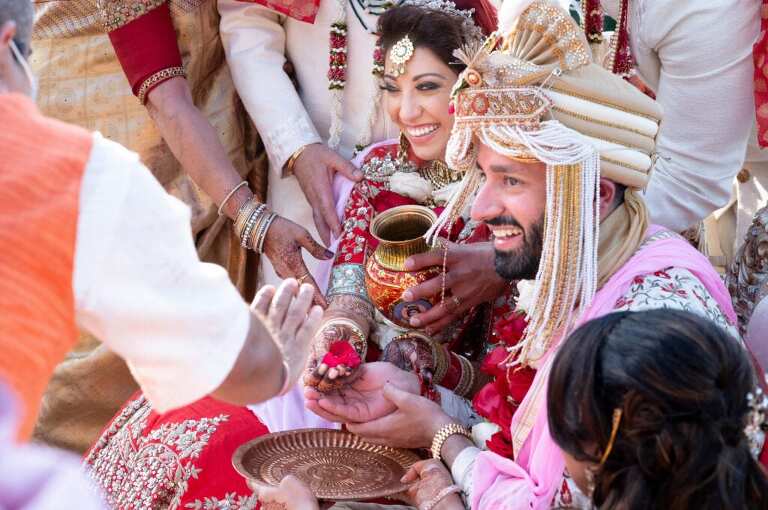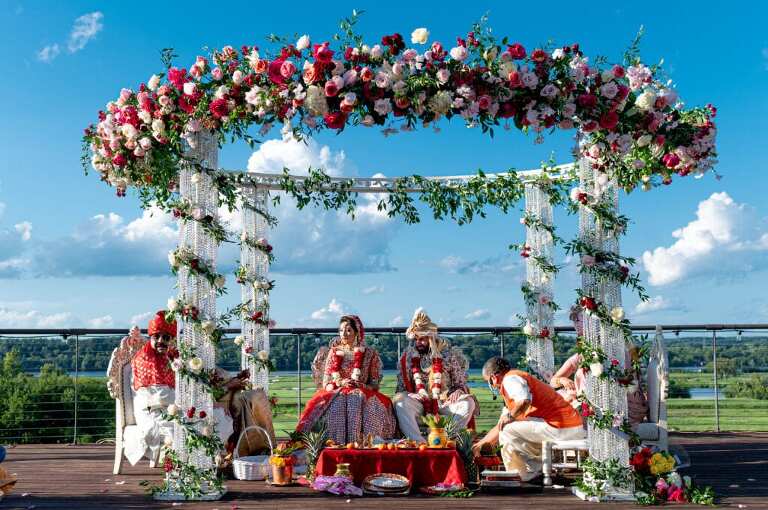 The night before, we were informed that a thunderstorm watch was issued for the remainder of the weekend. I officially felt like nothing could go right this year. Every hour of the night, I would refresh accuweather and finally at 5 AM on my wedding day, my decorator called my father & FIL to decide to put our wedding mandap indoors. I was devastated and we collectively decided that we will do whatever it takes until the last possible minute, but to put our mandap underneath the tent setup and wait to see if the weather clears in time to put up a backup mandap where we originally planned. As I got ready, watching everyone around me in masks, it felt like a surreal time. Outdoors, the weather still had not cleared and it felt like all our work in changing around details was for nothing. Around 2 PM, as our guests started to arrive, weather started to clear up. With a slight delay, everything went according to our original plan. Everyone who came up to congratulate us also said we were extremely lucky as the weather just a few hours ago did not look like it would clear up. We had socially distant all our guests by their groups, provided hand sanitizers and masks to stay safe and umbrellas, waters and wet towels for the warm weather. Most of all, our guests who could not join us could enjoy a live streaming of the entire ceremony. Guests even gathered up top watching the ceremony from the golf course ballroom. Our guests were then escorted to the outdoor cocktails area which was an informal reception as we called it.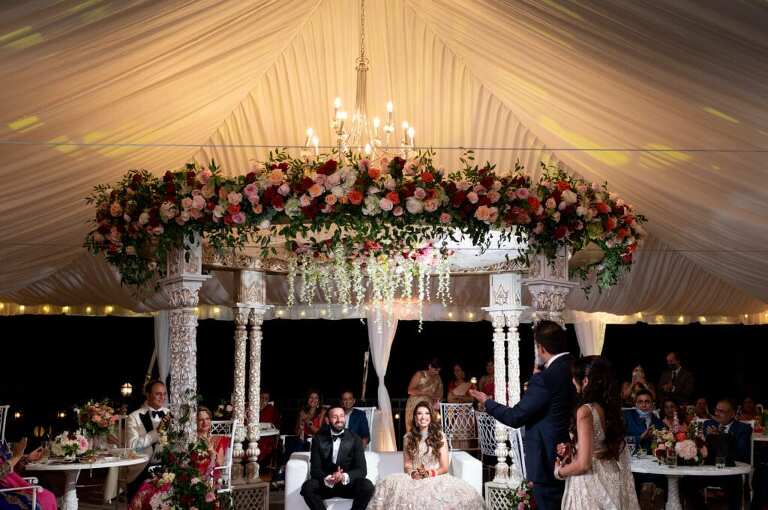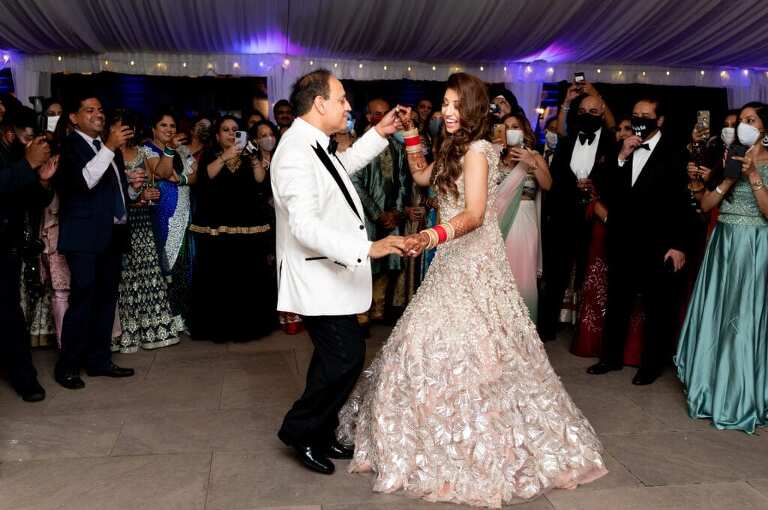 We were greeted by our loved ones as we entered in an impromptu dance floor to our first dance and then speeches. We executed everything a formal reception would have, but outdoors and with everyone wearing their masks. We made sure food was covered, folks had enough room to wonder inside and out and that luckily, we were able to successfully execute a socially distant wedding with none of our 200 guests nor vendors contracting the virus. As a tribute to our original venue, we spent our wedding night at that hotel in Washington DC that we had planned to have our original ceremony and reception.
Venue: Trump National Golf Club | Bridal Attire: Manish Malhotra | Bride's Shoes: Christian Louboutin, http://us.christianlouboutin.com/us_en/ | Bride's Jewelry: Hazoorilal, Hazoorilal Legacy | Groom's Attire – Tom Ford, Men – Men | TomFord.com | Groom's Accessory: Rolex Watch | Groom's Shoes: Giorgio Armani | Planner: Christine Godsey, www.cgandcoevents.com | Photographer: Mari Harsan Studios, https://mariharsan.com/ Hair and Makeup: Karuna Chani, https://www.kc-makeup.com/ | Florist: Priti Verma, L'Ambiance, https://www.myweddingdecorator.com/ | Catering: Moghul Catering, https://www.moghulcatering.com/ | Cake: Fancy Cakes by Leslie, http://fancycakesbyleslie.com/ | DJ: DJ Biks, https://premierdjsusa.com/djbiks Mobile DJ: Premier DJ, https://premierdjsusa.com/ | Cocktail Hour Strings: Camden String Quartet, https://www.camdenquartet.com/