Comfort first- The number one rule for planning bridal underwear is comfort. Your undergarments should be comfortable, supportive, and flattering. Breathable, moisture wicking fabrics are always a great idea since you will likely be sweating as you dance the night away!. 
The bra- If you are able to wear a regular bra under your outfit, you want to first make sure it is the right size. In general, most women wear the wrong size bra. The right fit will be more supportive and flattering. Keep in mind that most brides will lose weight before the wedding so if you are planning to get fitted at a boutique, go a month or two before your wedding to accommodate  for the weight loss. Next, you want a bra with a wide, smooth, no show band and fuller coverage cup. This will provide a smoothing effect and prevent skin from bulging in unflattering places. I always recommend a nude colored bra so that it is as discreet as possible. If you are wearing a strapless bra, I recommend testing it beforehand. Wear it to a party or a night out to make sure it wont be slipping down on your wedding day. For outfits that require built in cups, make sure you devote time to discussing what you're comfortable with with the tailor making your outfit. Depending where you shop, some cups are very padded, some have a more pointy contour, some are kind of itchy on the inside! I always like to be shown an example of how the cups will be before they are sewn into my garment. 
The panties- With most bridal outfits panty lines will not be an issue, but it is still something to be taken into account when selecting the underwear that you will wear with each outfit. If you want a smoothing effect for your stomach and love handles, consider a high waist, body shaping panty. These tend to be more comfortable and less extensive than full shape wear.
Shape wear- If you do want to wear shape wear under your outfit, make sure you try it beforehand! Some shape wear can be too tight or roll up and bunch in certain areas. Also if certain parts of your outfit are sheer make sure you shape wear will not show. 
Lingerie- The wedding night! This is where brides can have fun with shopping for lingerie. Whatever you select, remember to choose something that you feel confident and sexy in!
– Diya Goorah MD SincerelyHD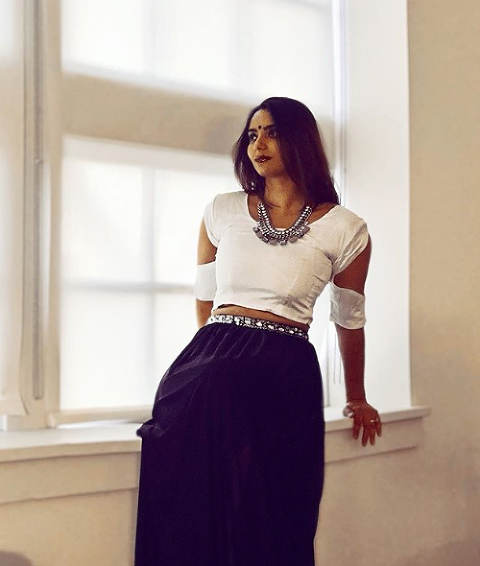 cover image via Pajama Sutra