Covid19 has been on the tips of everyones tongues for a while now and it has not only effected our lives but also the weddings that have been planned for months and even years.  We wanted to get some insight from industry experts on what to expect now that we are a handful of months into the pandemic.  We chatted with wedding planner Ajita Chopra of Ajita Chopra Events to answer some of the most commonly asked questions from how to un-invite guests to rescheduling for the 2nd or 3rd time, in hopes that this will help you on your wedding day and planning/preparing for the unexpected future. 
Q –  I have downsized my wedding due to COVID-19, how do I let my guests know that they are no longer invited to my wedding?
A – Uninviting invited guests is  a very difficult thing to do. The etiquette would be to immediately communicate this information in a thoughtful and tactful manner to cushion the blow. A personal phone call (you or your parents) would be more sincere. Be honest but compassionate in your delivery by stating that after great deliberation, and the current situation, you are taking this step for your safety and the safety of others. Keep the explanation brief.  Guests will not only understand, but may also be relieved.
Q –  I was originally getting married in the Summer, now my wedding is scheduled for the Winter, do I need to change my colors and theme to my wedding?
A – This all depends on the venue location you have chosen and what would complement that environment best.  It's not necessary to change the entire theme and mood board. Tweaking new colors into your current design is versatile.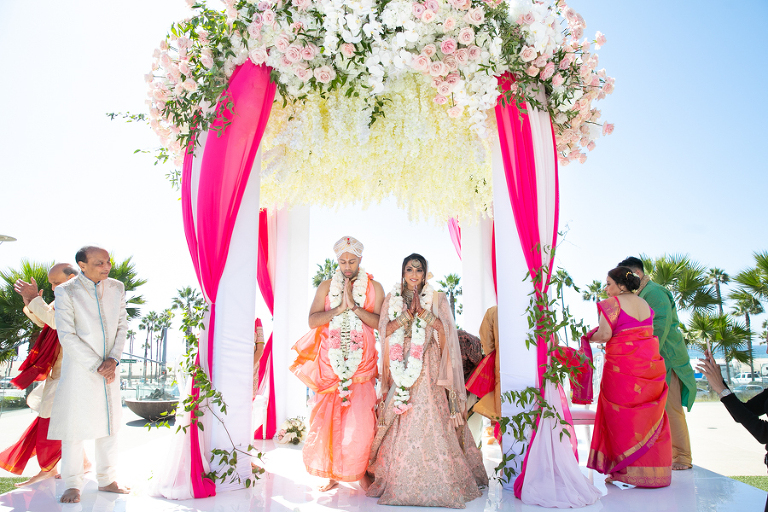 Q –  I am still planning on having a small 2020 wedding and my fiancé really wants to have his Baraat, is this a good idea?  
A – Based on my own recent experience with a 95-guest wedding, the Baraat resulted in two thirds of the guests NOT wearing masks making those guests who were wearing their  masks uncomfortable and so kept a distance from the group towards the back of the procession.  You could opt for a "micro baraat" with just the groom, his parents, siblings and groomsmen.
Q –  If I have a small ceremony now with just my parents and siblings in attendance, will people want to attend when I can have a larger ceremony?
A – If you're having an intimate ceremony with just immediate family members, I would not repeat a larger ceremony but instead host a larger celebration later to officialize your nuptials. 
Q –  Is there a good alternative to a big reception?
A – There is none.  You just have to wait until the current situation becomes safe to have a large gathering with ease.
Q –  Any tips you can share for planning a 2021 wedding?
A – With so much uncertainty and unknown, I would schedule the event in the late Fall or even wait until 2022 if you want to host a wedding with 200+ guests.  Weddings of 100 or less guests can be safely accommodated by observing social distancing, creating a beautiful environment and hosting an intimate dinner to celebrate!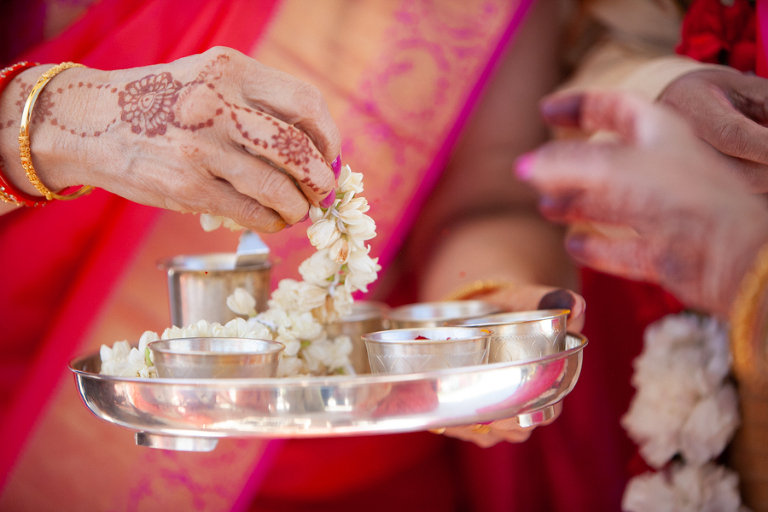 Q –  I already rescheduled my wedding to November. I don't know if I should be concerned about rescheduling again?
A – Be open to having to move your date again – reach out to your venue and vendors to gauge their flexibility for a date change and what their policies of rescheduling are so that it's not a surprise to you!
Q – Any tips on discussing cutting the guest list for your 2020 wedding? We no longer want 400+ people to come and are trying to figure out how to break this news to family/friends
A – This dilemma can easily be resolved based on what your state's mandates are allowing and also what the venue is able to accommodate based on the current social distancing guidelines.  Most 2020 weddings in So Cal are maintaining a 25-100 guest count for the obvious reasons. Family and friends will understand that it's safety first.
Image credits: Planning – Ajita Chopra Events | Flowers – 3 Petals Design | Photography – Braja Mandala | Venue – Pasea Hotel and Spa | Hair and Makeup – Dolled up by Lulu